Hello, friends!
I know it's summer for a lot of you living in the other hemisphere, so I hope this list also serves as a summer recommendations list. It's not summer where I live, though, so it wouldn't totally make sense to me, but I still wanted to share these books because I've been watching Teen Beach Movie and I'm inspired.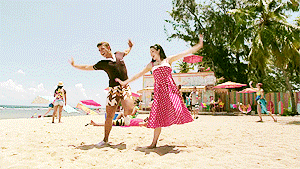 ALEX, APPROXIMATELY
surfer's town on Big Sur
I don't think anyone needs more reasons to be reading Jenn Bennett, as she's an incredibly popular YA author, but just in case: this one is set in a surfer's town, so what could be more Californian than that?
The setting is my absolute favorite thing about this book. There are endless talks on boardwalks and surfing, sand and the sound of the ocean. It's also nice because the characters work at a museum dedicated to the city's history, so we're constantly immersed in an unique location.
In case you don't know what this book is about: this is a re-telling of You've Got Mail, where Bailey has been talking to this boy, Alex, on a movie-forum and she's now moving to his hometown. However, she never mentions that to Alex, and in-town, she meets Porter, who's obnoxious and gets on her nerves, but is also particularly captivating. Y'all can kinda guess where this is going to go, but it doesn't make the ride any less worth it.
Even though I didn't adore all the aspects of this book, I still found it to be a very dynamic and interesting take on a summer romance, as it felt realistic because of the summer job aspect of it, but also romantic and dreamy.
WHEN DIMPLE MET RISHI
Stanford, San Francisco area
Of course I'd have to recommend one of my favorite books of all times! This one is set in Stanford, California, where Dimple is taking a summer course on app development and also where she meets Rishi in a well-crafted match-making plan by their parents – one that Dimple has no intention in taking part in.
I know a lot of people have very polarizing opinions on this book – some love it, some hate it. But I adore the story, mostly for the growth that these two characters go through together. Dimple has never been the perfect Indian daughter and she's not interested at all in the plans her parents have for her: all she wants to do is work in her career and graduate.
Rishi, on the other hand, is very connected with the Indian culture and likes the traditions. So, you can expect that him and Dimple won't have much in common, but I love how being opposites allow them both to understand the other part and grow.
Dimple learns that she doesn't have to give up on one thing to live the other and she's still badass and her own person even when she changes her mind. Rishi also learns with Dimple's determination and strength. I absolutely adore how *real* these characters felt and their fabulous arc.
LOLA AND THE BOY NEXT DOOR
San Francisco
Again, one of my favorite books of all times, so you'd better expect I'd be raving about it. This one is set in San Francisco and we follow Lola, whose neighbors are moving back next door, ready to wreak havoc in her life. As anything in Lola's life, this one is very overdramatic, but that's exactly why I love it.
Lola is obsessed with fashion, but not in the way most people do. She likes making her own clothes, always wears wigs to match her mood and believes every day can be Halloween. I adore how the book explored what it meant for Lola about her own identity when she played a different character every day.
My favorite thing about this book is the angst and sexual tension between the characters. There is no such a thing as insta-love here, and you're rooting so bad for them. I also love how the author makes sure to highlight the importance of being good to yourself first, before you can be good to someone else.
The side characters are equally amazing – her two dads are hilarious, Lindsey is a cutie and Cricket and Calliope are the most iconic duo ever.
ANGER IS A GIFT
Oakland
Trigger warnings: police violence, harrassment, violence, murder/death
I don't think I ever mentioned this book on my blog before, because I read it back in December, and it got mixed up with my favorites/least favorites of the year and then the new-year enthusiasm. But I actually read this one, which is set in Oakland, and follows a super diverse cast of characters who are fighting police brutality and racism.
I have very conflicting opinions on this book, that I won't necessarily get into, because I still think it's worth reading and figuring out where you stand by yourself. Instead, I will highlight what I actually liked:
Diverse cast of characters with a lot of intersectionality. Our protagonist is a black Latinx gay boy and there are a lot of other queer black/latinx characters as well.
It addressed allyship incredibly well and how exactly white people can help in the cause.
Showed the power of teenage's voice and how young people also have so much to say.
Moss has anxiety and police violence is a trigger for him, which is why at times he feels like he can not fight back what is happening in his community. I loved how the author showed that it is okay to prioritize your mental health, because you need to be well in order to fight for your community.
Again, go read it because there are definitely a lot of powerful messages you can take from it and maybe you'll enjoy it better than I did!
THE BRIGHTSIDERS
Los Angeles
Speaking of books maybe y'all can enjoy better than I did, I have The Brightsiders. This one is set in Los Angeles, following Emmy King – drummer of the popular pop-rock band, The Brightsiders. In the beginning of the book, we see Emmy getting involved in a major scandal and we follow as she tries to repair her reputation.
Again, while I did not love this book, there were some great things about it. First and foremost, the diversity. As can be expected from Jen Wilde, this book was very diverse: our protagonist is bisexual, and her band-mates are a gender-queer pansexual guitarist and a questioning Korean-American boy. There's also a non-binary best-friend and a bunch of other queer side characters.
I liked how the author explored Emmy's alcoholism and how it was not as black and white as one may think. I also loved how, even though Emmy had such emotionally abusive parents, she was never alone, because her friends were super supportive and held her even when she made mistakes.
It was also nice seeing a toxic F/F relationship being discussed, as I feel like we tend sometimes to envision queer relationships as perfect, when they definitely can be unhealthy as well.
Do you like Teen Beach Movie? Do you have any recommendations for me of books/movies set in California? Let's chat in the comments!