Hello, friends!
During my last TOP 5, I shared characters who I love despise the fact they're a mess. So, to contrast that, today's TOP 5 will be my favorite characters who are cinnamon rolls – too good for this world, too pure.
There are quite a lot I wanted to include, because apparently I only have two moods: loving all the characters who suck and loving all the ones who are cute & adorable. So definitely expect a part 2 for this list!
FIVE. SWEETIE, FROM THERE'S SOMETHING ABOUT SWEETIE
I mean, this girl's name is Sweetie, so what do you even expect?
Sweetie truly has the sweetest personality of all. She's kind and nice to everyone. She even tries to make reason out of her mom's absolutely unreasonable behavior because she loves her so much. She helps her family out in their own jobs, is a supportive friend, and an even more supportive girlfriend.
Literally, the first chapter of this book is Sweetie looking at a picture of Ashish in the paper and feeling like he has really sad eyes, so she wishes she'd be able to do something to help him. Not only she's incredibly attentive, but she also feels the urge to help a guy she doesn't even know.
I wish I could be half as amazing as Sweetie, truly.
FOUR. MAGNUS CHASE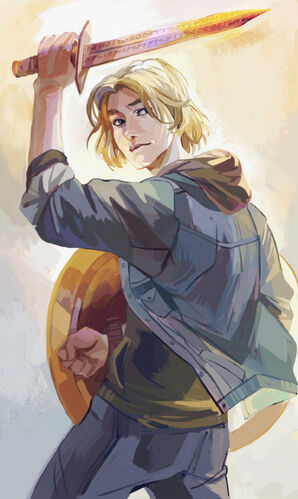 Magnus Chase is so freaking pure it hurts. He used to be homeless and lived in the streets and, yet, in order to survive, he'd only steal money from people who were rude to others or who were breaking the rules. Like? Why are you SO NICE?
And even throughout the series, you see him doing absolutely anything to help his friends, while trying not to hurt anybody else. Besides that, he's not afraid of crying and showing his emotions, which is a big contrast to Percy, who bottles up all of his feelings and use sarcasm as his way out of everything. Magnus will be crying and yelling from the rooftops how he feels and he just doesn't care.
The way he interacts with others is also so adorable. I had never noticed before how holding a deaf's person hand can be really similar to someone taping your mouth, since they need their hands to communicate, but Magnus points this out. He does not believe in God at all, but he's incredibly respectful and considerate at Samirah, who's Muslim. He's also a bit confused at first about Alex, who's gender-fluid, but he always respects the pronouns they choose for themselves for the day. Basically: Magnus is the best friend you could ask for. Period.
THREE. EZRA MASON, FROM THE ILLUMINAE FILES
I will be honest: Ezra is not my favorite character in the Illuminae Files. No, that would have to be Kady, because layered female characters are my *weakness*. But Ezra comes right after, because he's just the most precious cinnamon roll in the world.
Ezra is truly hilarious and most of his dialogues had me dying. That would already be enough for me to love him, because characters who make me laugh out loud are incredibly rare, but then there's also the fact he's overprotective and really, really sweet?
He's just the really extra boyfriend, likely to cover an entire room with flowers and hire a sax player as your Valentine's Day gift (does anyone get that reference? lol). He also has a lot of feelings and is not afraid to share them. (Boys who do not understand the concept of fragile masculinity are so attractive).
Nik calls him babyface, but truly he's just a baby overall.
TWO. CEDRIC DIGGORY, FROM HARRY POTTER
We'll celebrate a boy who was, kind and honest, and brave, and true right to the very end
Is it really possible to write a list about characters who are too pure, too good and too kind and not include Cedric Diggory? I don't think so.
He is my favorite character in the Harry Potter world, simply because he's also the nicest. Even when his friends are being assholes towards Harry, he distances himself from them and helps him out. He didn't have to; in fact, he's advised not to, but he gives a chance to Harry, in order to make the fight fair. Before the glory, he wanted to make sure he was being just.
He was also an incredibly loving son, a really good boyfriend (I've never wanted to be Cho Chang this much) and overall an amazing person.
ONE. ADAM, FROM A LIST OF CAGES
The definitions of kind and pure have been updated since I read A List of Cages.
I adore the fact that everyone else in this book loves Adam. His enormous group of friends, his mom, Julian, his teachers, even this random security guy he meets at a school trip. And that's because Adam is friendly, understanding and just incredibly nice.
His brain can not even compute feelings like anger, resentment or jealousy. The girl he's had a crush on since he was a kid is dating another person and instead of hating on the guy, he just supports & cheers for the relationship.
The reason as to why this book was so heart-breaking for me was probably because seeing all the hurt and pain around Adam finally start to affect him broke me in half. He's such a ray of sunshine that I could not stand seeing him shine less than I knew he could.
There it is, everyone! Share down in the comments which characters you love that are also too pure, too kind for this world!