Hello, fellow bloggers! And Happy Brazilian Valentine's Day!
In Brazil, we actually celebrate Valentine's Day in June 12th! It's the eve for Saint Anthony's Day. My country is very catholic, and therefore we celebrate a lot of saints during this time of the year. But the reason why we associate Valentine's Day with Saint Anthony is because he's considered the saint of marriage, as he's reconciled a lot of couples in legends.
In honor of the fact that we're celebrating Valentine's Day here today, I want to share my five favorite & least-favorite romantic tropes in fiction.
Let's get started!
STAR CROSSED LOVERS
I live for a good and old Romeo & Juliet trope. This is my type of angst, really. I love the idea of two people loving each other but having the world work against them; stopping them from being together. It honestly sets the best romantic storylines, but most importantly, the most beautiful dialogues.
"These violent delights have violent ends
And in their triump die, like fire and powder
Which, as they kiss, consume"
I do understand not everyone is into this trope. It's kind of overdramatic, but what is to love about fiction if it's not overdramatic? This is not the type of love you'll see anywhere but in a novel or a big screen, and I find it entertaining AF.
---
FAKE-DATING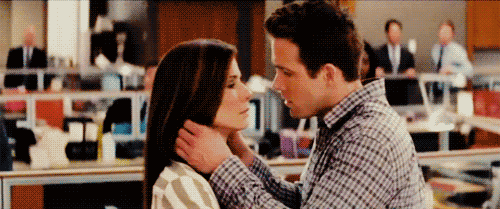 Ohhh, the good and old fake-dating. "Let's pretend we're boyfriend and girlfriend" and then also pretend that we're not clearly falling in love with each other for real.
Peter Kavinsky & Lara Jean, from To All the Boys I've Loved Before, is the #1 bookish example for this trope. And probably my only one too! I have read The Wedding Date, by Jasmine Guillory, but the fake-dating didn't last for long enough to satisfy my *needs*. I really want to read as many books with this trope as I can. For me, it never gets old.
---
FRIENDS TO LOVERS
Friends to lovers is soooooo superior to enemies to lovers. Don't @ me.
Growing up, I've always dreamt about these types of relationships. (Granted, growing up, I also didn't know much about what it was like *being* in a relationship). Nonetheless, I always thought that relationships that start as friendships are always so much more comfortable. You already know the other person so well.
Ari & Dante are my babies for this trope. They grow up together, and slowly find their way back to each other.
---
"IT'S JUST CASUAL"
Fun fact about me: my favorite fictional couple of all times, the one with the true crown, is the one from the gif above – Mickey & Ian, from Shameless US. I've never even watched the show in its entirety, only *their* scenes for about 5 years, which I think shows my commitment.
ANYWAY. I love their banter, because they like to pretend they're just casual sex buddies. They have nothing more than that. Needless to say, they're absolutely in love with each other.
I think this is sort of a friends-with-benefits trope, but it's so hard to find good ones these days? I think most are either way too sex-centered or just don't give me any feels at all (hello, No Strings Attached). Nonetheless, I still like to believe I can find more from this trope that will finally get in Gallavich's level for me.
---
POOR GUY/RICH GIRL
This is a very specific trope, but boy, if it doesn't work for me every time.
When I first found Korean Dramas, I'd mostly find poor girl/rich guy narratives. And I really, really don't vibe with those. There's something about my feminist side that just can't stand how the girl has to be constantly inferior, even in her financial situation, which kinda makes the guy this hero that will save her from all her worries. Uh, no, thanks.
The poor guy/rich girl, though, gives me just my type of favorite dynamic. The guy is typically full of pride, and doesn't want to take the girl's help. They have a lot of angst. It's glorious, truly.
Kestrel and Arin, from The Winner's Trilogy along with Aspen and America, from The Selection series are some of my favorites from this trope. (Adam/anyone in the Raven Cycle is also pretty much this trope in a nutshell and it's amazing).
YOU BELONG WITH ME
I don't know what else to call this trope. It's basically centered around the one nerdy-weird character, that "wears sneakers" and "sits on the bleachers", dreaming about the day when their love interest will wake up and find that what they've been looking for has been here this whole time.
It also typically involves the "cheerleader" with "high heels" that just "doesn't get your humor like I do".
Now, as you can *clearly* tell: I freaking love You Belong With Me. My biggest dream is to sing this song off the top of my lungs to a whole crowd. It's my karaoke go-to. But when it's taken seriously in a book or show, it makes me want to pierce my eyes with a fork.
Stiles and Lydia, from Teen Wolf, are the best example of it. Probably one of the many reasons why I can't stand them.
---
HATE TO LOVE

Even though I'm not a fan of this trope – at all -, I do recognize some couples that work well with it. But my problem with hate to love or enemies to lovers or whatever you want to call it is that it exhausts me by page 2.
I know that typically people adore this type of banter. It's the "will they, won't they" that makes the story entertaining. But it's also with this trope that comes a lot of toxic behavior, unrealistic attraction, etc.
Ron & Hermione weren't exactly enemies when they met, but they certainly weren't the best of friends either. And I just really can't stand the idea that if a guy treats you poorly, he's actually in love with you. Or that you can't really hate a person, otherwise it means you're secretly falling for them. Ew.
---
ALL OVER EACH OTHER
As much as I enjoy reading romance, I just can't stand when that is everything the characters live for. They need to have a personality and a life before they have a love interest.
I also hate when the relationship takes up pretty much everything that these characters live for. The friendships they used to have, the things they used to do, it pretty much vanishes as soon as they find their significant others. Like? How?
It's so beyond unrealistic and quite unhealthy as well. There's more to life than romantic relationships, friends. Just stop.
Jason and Piper, from the Heroes of Olympus series, were that annoying couple that people consider a unit because they never let go of each other and can not shut up about how the other looks good or how much they like them. It was unbearable going through their POVs when reading this series.
---
IRRESPONSIBLE LOVERS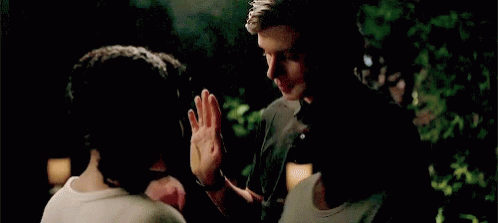 This trope is the reason as to why I hate teenagers. I don't even care that I'm technically one of them.
The things teenagers do believing that "they're in love" is frankly ridiculous. I feel like there's a very important line and I'm so bothered when it's crossed. Like, your health is definitely more important than a guy in a cute hairstyle, but you know, go off.
I also hate when the main couple decides to do something reckless together and then, when it backfires, take no responsibility for it. That's probably why I hated Isla and the Happily Ever After, by Stephanie Perkins so much. The characters just make the dumbest decisions ever but do not owe up to them. My eyes hurt from rolling so much.
---
INSTA-LOVE
I don't even feel like I need to explain much about this trope, because we all find it annoying. It takes all the fun out of the book.
My favorite thing when reading or watching a romance is to see how the characters will fall in love. To follow how they get to know more about each other, to feel the sexual tension as they're getting closer and closer, but still not quite there. It's the magic behind a romance after all.
But if by chapter 10, they're already kissing; and by chapter 15, they're already saying 'I love you', then this was all fun and no play and I can't accept that.
I Have Lost My Way, by Gayle Forman, sadly gave me all the insta-love & insta-friendship vibes and I was not happy about that at all.
Friends! Now it's your turn to let me know: which are your favorite & least-favorite tropes? Do you agree with my choices? Have you got any recommendations for me? And, most importantly, what's your favorite rom-com? Let's chat in the comments!