Hello, fellow bloggers!
Today, I'm bringing yet another book tag. This one is quite different, though, and I love the questions! The first time I saw this tag was in Adriana's channel @ Perpetual Pages (which is by the way, a phenomenal channel and they're amazingggg).
This tag was started by PBS Digital Studios in conjunction with The Great American Read, around the time when you were supposed to vote for America's Favorite Novel. I'm not American, so you can imagine I barely glanced twice at this, but the questions were great, so I'll be answering nonetheless!
ONE. If your life were a book genre, what would it be?
Definitely a YA contemporary. I actually imagine my life as a book sometimes, and I write a lot based in my own experiences – or how I wish they would turn out, because life is boring but books are not. Not that they actually become anything more than a paragraph, most of the times, but it's a fun way to look at my life – through a fictional lense.
Here's a paragraph that I wrote last year, when I was in New York City, taking the subway everyday. It's super random, and doesn't mean much, but it shows how much I take inspiration from things that happen around me when I'm writing.
He slipped through the subway doors right as they were closing. His body moved so subtly and swiftly, and in a glimpse of an eye he was inside. I didn't even see him moving, except when his long legs and hooded eyes were already inside the wagon.
TWO. What villain from a book do you identify with the most?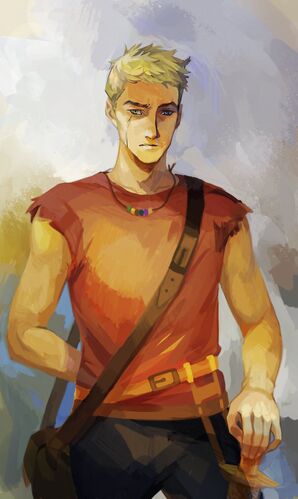 This is a weird question, because I typically don't like villains or morally grey characters. But Luke Castellan, from Percy Jackson, is pretty much me sometimes.
Holds grugdges ✔️
Bad relationship with their father ✔️
Doesn't know how to cook ✔️
Doesn't cope well with failure ✔️
Uh, yeah. Pretty much me. I do like to believe I'm not such an antagonist, though.
THREE. What protagonist are you most similar to? 
One of the first protagonists I deeply related with was Tris, from Divergent. She's selfless and smart, which are traits I share. Granted, she's much more of a badass than I'll ever be, but I still felt like we'd be great friends if we shared the same world. Plus, every test I took would put me in either Abnegation or Erudite, so there's only Dauntless keeping us apart, if you think about it.
Apart from Tris, I also need to mention Ari, from Ari & Dante Discover the Secrets of the Universe. I read this book for the first time when I was fourteen, so we were pretty close on age. From his relationship with his father, to his thoughts and feelings of inadequacy, Ari was one of the most relatable characters I've ever encountered in YA.
FOUR. Which book did you connect with in the past that you no longer do?
That will for sure have to be The Hunger Games trilogy. When I first picked up this series, I think I was severely carried away by the hype. I have more memories of feeling frustrated towards the book than I have of actually enjoying it.
Over the years, my rating has changed a lot. I'm still overall thankful for the series, because it introduced me to other dystopians that I love (as Divergent and The Maze Runner), but I certainly don't have the same love for the characters as I once did.
FIVE. What recent book read would you love to be a character in?
Obviously, Truly Devious! I love the idea of an academy for kids that are incredibly passionate about one thing. I don't think I'm particularly excelent in anything, except perhaps procrastinating, but as a fictional character, I could thrive a lot more.
I actually think about how much better I'd be as a fictional character than as a real person approximately 43 times a day.
If I could be part of the Truly Devious cast, I'd love to be the dancer – because I have zero dancing skills but am obsessed with ballet nonetheless.
SIX. How do your reading habits show off your personality?
The fact I don't have many reading habits just show that my life is CONSTANTLY all over the place. I have no idea what's going on half of the time.
I think the only thing I do consistently is track my reading. I love the idea to track my star ratings and my overall thoughts on a book, just as much as I love tracking my favorite songs for the month or all the movies I've watched. I'm a tracker, not a planner.
I also don't have TBRs and consider myself a mood reader, because I'm absolutely incapable of doing things that I set myself to. By the time I write a to-do list, it's ruined. I have to go with the flow.
SEVEN. What book taught you something about yourself?
I think Ari & Dante was a super life-changing novel for me, so it couldn't be any other. Just the realization that my feelings were understood and therefore valid, even if I was relating to fictional people, was a super important moment for me. This book means more to me than I can explain, and it definitely taught me that it's okay to feel out of place in your own skin sometimes.
Let me hear from you in the comments down below! Which book have you changed your opinion on? And if you were in the Ellingham Academy, what would you be known for?