Hello, fellow bloggers!
February has already come to an end. Even though it is the shortest month of the year, I feel like so much has happened since my last wrap-up. Mostly: school happened. And I'm still trying to get used to all the future changes I'll have to go through *shrugs*.
Anyway, onto this wrap up:
HIGHLIGHTS
I got a SCRIBD subscription! I'm so excited about it already! I've been wanting to read more audiobooks – this was actually one of my 2019 goals – and SCRIBD was the one with the best deal for me. So far, it has been great! I really like the fact that I can be reading even when I'm doing other things (playing Gardenscapes like crazy) and I hope it will help me achieve my Goodreads goal even when school gets chaotic.
School has officially started. So far, our first week has been pretty chill; we are mostly getting to know classmates, teachers, the buildings and all. I'm going to a big university, so it is a bit overwhelming walking through the campus sometimes. I'm looking forward to finding my group of people. I feel like everyone I've met so far is in college to party & drink – and I'm not interested in either. Nonetheless, I'm excited to be studying something I'm very passionate about and I'm looking forward to the projects for next months.
I watched Billy Elliot and I haven't gotten over it yet. Honestly, I'm not the type of person to care for highly-acclaimed films. Obviously, since my favorite movie is 27 Dresses. But I find that my problem with Academy Award nominees is that, even if I can recognize they're well-crafted, they just bore the living hell out of me. But Billy Elliot wasn't like that at all. It was a movie with A+ acting, fantastic writing AND that also made me feel everything. I'm so in love with it!
WHAT I READ:
For the month of February, I commited myself to read only books by black authors in honor of Black History month. This is what I ended up reading:
Let's Talk About Love, by Claire Kann was a super interesting read. I'd been wanting to read this one for a long time now, mainly because it features an asexual protagonist. The book was adorable indeed, and so were the characters. I was not expecting the friendship element to the story and it was my favorite – obviously, because when am I not crying over fictional friendships? Takumi, the love interest, was sweet & all, but he felt way too perfect at times. Nonetheless, it was a solid contemporary and I just want all asexual characters having happy endings.
All American Boys was the best book I read this month, and I've already done an entire review on it (a huge one, btw), so I won't talk much about it here. To put it simply: if you liked Dear Martin or The Hate U Give, you need to read All American Boys. It's just as moving, powerful and incredibly important. The writing was, at first, hard to get through, but it gets better! I promise!
The Wedding Date, by Jasmine Guillory was my first 2.5 stars of the year and I don't know why I'm so happy about it. Basically, 2019 has so far been the best reading year and I've only read 4~5 stars books, except for this one. I was basically begging for an opportunity to rant. Now, The Wedding Date wasn't even that bad. But I went into it thinking it was going to be a lot of fake-dating trope, and it becomes more of a friends-with-benefits trope – which I like, but just wasn't what I expected. There was way too much miscommunication and I feel like the book dragged more than I would've liked, so even though it was entertaining, fast-paced and did the job, it wasn't anything too special.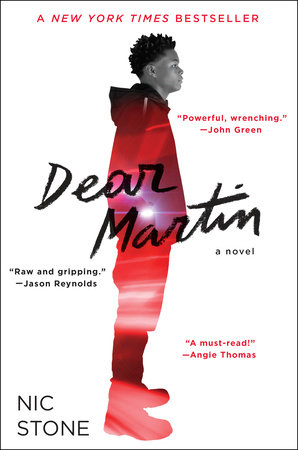 Dear Martin, by Nic Stone was a re-read, as I want to re-read at least one book a month. I was very excited to revisit this story as it is one of my favorite books of all times. I took the chance to highlight some of my favorite quotes and tab all of them, since the first time I read it was during a roadtrip and it just wasn't convenient to do so. This book has so many important moments & messages, and I want absolutely everyone to read it. Also: Manny is a baby and I'll love him forever.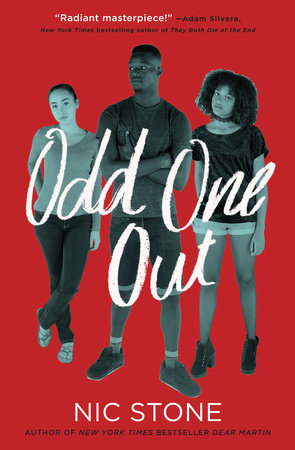 Then, because I just hadn't had enough of Nic Stone, I also picked up Odd One Out! I was excited because it was my first audiobook experience. I loved the narrator for Cooper's character; he really was the best. Overall, I feel like the experience was bittersweet, and I still don't know exactly where I stand with this book. Nic Stone's writing style was for sure exceptional in this one as well, but I feel like the story lacked on showcasing healthy ways of dealing with your confusion. Figuring out your sexuality is definitely a tricky process, but I don't believe in messing with other's feelings in the way.
WHAT I POSTED:
LOOKING FORWARD
March is an exciting month because for the first week, it's Carnaval! Basically, Carnaval is this massive holiday in my country, where people go to the strees, party and dance a lot of samba, lol. I am not exactly a fan of the genre, and as an 18 year old grandma, I also don't party a lot. But we don't have school for almost a whole week, and it's glorious! I have a lot of exciting books to read in March, and I really can not wait.
How was your February? And what are your looking forward to do in March? And also: do you feel the same way about highly-acclaimed films or you love them all? Let's talk in the comments!