Hello, fellow bloggers!
I just recently found out about this beauty, called The 90s Movies Book Tag and I was instantly thrilled. This tag was created by Kayleigh, from A Book Lovers Playlist and it pretty much encompasses everything that I love in life: books and corny movies.
And because I shall rave about poorly-written rom-coms at any given time, I couldn't pass on the opportunity to answer it. So, let's get starteddd!
(Also, I won't be answering to the whole tag because I frankly don't know all the movies in the list. I'll be adding more recommendations at the end, though!)
1. SHE'S ALL THAT
NAME A BOOK COUPLE THAT'S AN ODD PAIRING BUT THEY STILL FIT PERFECTLY
First of all, let's talk about She's All That for a second here, shall we. Even though I know this is a classic rom-com, I just couldn't care enough for the characters. Honestly, I was not even bothered by the fact the girl went from nerd to hottie just by removing her glasses (🙄), because that's the type of corny I can deal with. But the characters were just bland and boring and not humorous at all?
Anyway. As for my unexpected book couple, I'll say Khalid and Shazi from THE WRATH & THE DAWN. I'm looking forward to finally finishing this duology (to say I'm late is an understatement), mostly because I loved their chemistry. Under the circumstances, they were never supposed to work, but they're amazing!
2. 10 THINGS I HATE ABOUT YOU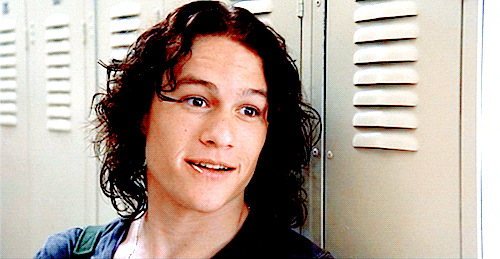 A BOOK/SERIES YOU HAVE A LOVE-HATE RELATIONSHIP WITH
The answer to this question may be a surprising one, but that will have to be THE RAVEN CYCLE, BY MAGGIE STIEFVATER. This is a very hyped and popular series and I actually really loved almost all books. But everytime I find myself revisiting it, I just realize a lot of things I dislike? Like, how Blue hardly ever stands up for herself and screams 'Gansey!' everytime Ronan is rude with her; and yet she's considered a badass female character. Also, Henry Cheng? No, thanks.
Basically, I love this series but there are also a lot of things I can't stand about it.
As for 10 Things I Hate About You: there's only love for me. I'll say, though, Cameron/Bianca is the superior ship. Don't @ me.
3. CLUELESS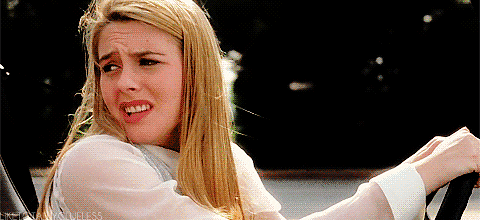 A CHARACTER THAT IS TOTALLY CLUELESS BUT YOU LOVE THEM ANYWAY
First of all: Clueless is a blessing to man kind. I can watch it several times and always laugh at her learning to drive scenes. Also, Paul Rudd hasn't aged at all, which is a proof he's a vampire. In this essay, I will
Anyway, Simon, from CARRY ON BY RAINBOW ROWELL is totally clueless sometimes. But I think it's all part of the charm, truly. How one just doesn't notice that their roomate and mortal enemy is also in love with them?
4. TITANIC
NAME A BOOK THAT MADE YOU CRY
Fun fact: I never cried with Titanic. One, because I'm soulless, but also because the ending was so predictable, how could I? I'll say, though, I cry everytime I think about Leonardo DiCaprio as Jack Dawson. My theory is that everyone should have a Jack Dawson at least once in their lives – and specifically young Leo, with the hair falling on his eyes and all of that.
One book that made me cry recently was ALL AMERICAN BOYS. I got teary-eyed – I've never cried real tears with a book before, I think -, but it counts! It's a powerful and beautiful read: one I recommend to everyone.
5. AMERICAN PIE
A book that makes you laugh
Rainbow Rowell never fails to make me laugh, and Attachments is a book I literally laughed out loud since page one. The same goes for Rick Riordan: his sarcastic remarks are always hilarious to me.
Now, I've actually never watched American Pie – it's just not my type of humor. Plus, sex makes me uncomfortable! And Bring It On is a much better franchise. :)
---
As for other 90s movies that I love:
PRETTY WOMAN. Thank God for Julia Roberts. I just don't understand the hype around Richard Gere, though.
FORREST GUMP. This movie is literally art. Also, Bubba Gump – a restaurant inspired off of the movie's story – is my favorite place in the world and I can literally taste their food in my mouth now. (I'm so hungry, *cries*).
NEVER BEEN KISSED. This movie is so freaking underrated??? People just don't talk about it enough, when it's absolutely glorious.
STEP MOM. Julia Roberts was the queen of the 90s and this movie makes me cry every time. I haven't been able to listen to 'Ain't No Mountain High Enough' since watching it.
THE PARENT TRAP. I've watched this movie so many times is probably unhealthy. Do not understand how Lindsay Lohan didn't get a freaking Oscar for it.
Guys! Let's talk! What are your favorite 90s movies? And how do you feel about corny rom-coms? Also: who's your favorite 90s actor? Are you more of a Leo DiCaprio person or Richard Gere? Let me know in the comments!