Hello, fellow bloggers!
I've had this blog for a little over a month now, and I realized that I hadn't talked – enough – about my favorite series here. And more than gushy posts, my favorite ones to read is when people talk about how stories were able to change their lives and deeply mean something to them.
I think it's so interesting how we have different relationships with books. A story that I may have just casually brushed upon can be someone else's favorite book of life. And that's because we are different people, after all, and books can move us for very different reasons.
So, because I haven't endlessly talked about my top three favorite series of all times, there it goes:
1. PERCY JACKSON & THE OLYMPIANS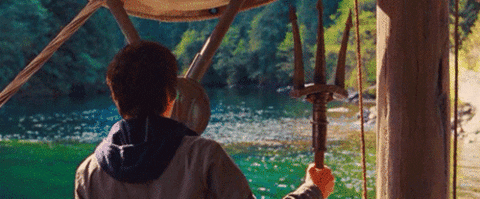 Of course. Percy is my favorite character of all times, so of course my favorite series had to be his. Obviously there are a lot of other reasons as to why I love this series. Let me list them:
It was the first fantasy series I truly commited to and therefore made me want to read more. Before Percy Jackson, I read nothing but girly children books – I was still 10, so that's okay? – and after it, I started picking up more and more fantasy/dystopian series. I don't think I'd have ever gravitated towards fantasy if it wasn't for Percy Jackson. Even though it's not my prefered genre nowadays, I'm still thankful for all the amazing series I picked up after PJO.
It introduced me to the bookish fandom. My entire life has been dedicated to fandom, and I don't recall a time in which I wasn't obsessing over something. Whether that was Taylor Swift or Teen Wolf, fandom culture has always been a part of me. However, I only got to know the bookish fandom after reading Percy Jackson and starting my own Tumblr blog. I can't say I made a lot of friends through it, because apparently being an awkward bean on social media has been my brand ever since I was 12, but I still have a lot of amazing memories. (And it taught me how to use Photoshop! So, there's that!)
It taught me a lot about Greek mythology. Thing is: we don't learn about Greek myths in school in my country as you do in others. I had never even listened to Greek's Gods names before this series. Obviously, Percy Jackson is just a re-imagining of most myths, but it opened me to a new world, one that I definitely became interested to know more about.
Percy Jackson was also the first book series by Rick Riordan I've ever read. All of his books mean a lot to me; they've introduced me to phenomenal characters, from all backgrounds, with very different stories, and I fell in love with every single one of them. To have a book series that makes you feel all things so deeply is definitely remarkable to me.
2. DIVERGENT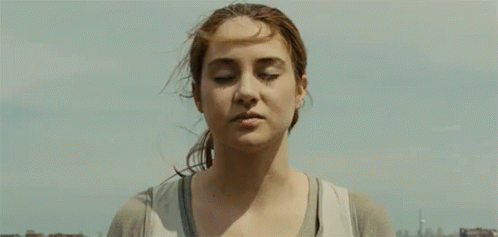 In the midst of all the bookish fandom craziness, it's not a surprise that I fell upon book series like Divergent. And though this one may be everyone's least-favorites now, I still love it with all my heart.
Firstly, there's Tris. I've always been more invested in male characters; is just how my world works. But things changed when I met Tris. To find a female character, whom I not only cared deeply about, but also identified with, was such a powerful moment for me. Tris is smart, brave and selfless. Her development throughout the series is one of my favorite things in the world: how she grows into a confident woman, but that is still so attached to her family and friends, doing anything to protect them.
On top of that, Four x Tris are my #1 favorite book couple. And I understand if some of you are rolling your eyes at that, because with the amount of new ships from the past years, how come I'm still this attached to them? That's because they worked like a real couple should. Back in the day, I thought that if I was ever to be in a relationship (a choice that I no longer agree with, by the way), I'd want to be in a relationship like theirs. In which they respect and understand each other. In which they actually communicate their thoughts and feelings, and not only get carried away in misunderstandings. In which they fight, and argue, but fall back together, because they choose to do so.
3. THE MAZE RUNNER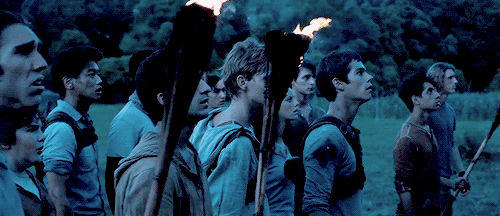 And, lastly, we have my broken babies, with The Maze Runner series. I feel like this was a trilogy that came to me in the moment that I needed it the most. Right before the first movie was released, I picked up The Maze Runner and I fell in love with it, badly. I remember it was my favorite book of the year 2013 (it's been so long already? what?).
2013 was also one of the worst years of my life, as I had just moved schools, and was pretty much friendless. But these books offered me comfort and a friend group that was so much better than anything I could've ever wanted. When I was reading it, I didn't care about other's mean comments; I just focused on getting out of this maze, along with the characters.
(Also, I vividly remember reading this book during Math class and having my teacher yell at me. And though mortified, as soon as he handed me back the book, I continued to read, because the cliffhanger was too much, lol.)
I also watched as each movie adaptation was released, which was so important as well. Last year, I went to the theatres by myself to watch the last addition to the series – Death Cure – and though I was disappointed at how different the movie turned out to be from the original work, I was still sheding silent tears. It's crazy to think there's nothing else to anticipate, as I feel like the wait for Death Cure's movie was endless. Ultimately, I'm so thankful for the amount of effort put in concluding this trilogy, and I couldn't have requested for a better cast.
Let me know in the comments your favorite series & how they've impacted your life. I love sharing these stories with others! These are just my top 3 faves; obviously, I have a lot of other favorite series, but these are the ones that changed me the most. Which characters have been your best friends? And your first bookish fandom? Let me know!